CFD simulations have wide ranging applications in automotive field including simple flow in intake manifolds to most complex phenomena of combustion. More applications include underhood thermal management, loss coefficient calculations for intake and exhaust ports, front-end flow, engine cooling jacket flow optimization, flow distribution in radiator tubes, external aerodynamics, de-icing / hot-soak-down / cold-soak-down / thermal comfort in HVAC, EGR coolers, flow uniformity check for catalytic converters ... Apart from standalone utilities, the detailed 3D simulation models can be coupled with 1D lumped simulation programs such as GT-Power and AmeSim.
---
Typical SI and Diesel operating value comparisons
Parameter
SI
Diesel
BMEP - Naturally aspirated
10-15 [bar]
10 [bar]
BMEP - Turbocharged
15-25 [bar]
15-25 [bar]
Power density - Naturally aspirated
50-70 [kW/L]
20 [kW/L]
Power density - Turbocharged
70-120 [kW/L]
40-70 [kW/L]
Fuel
H to C ratio
CH1.87
CH1.80
Stoichiometric A/F
14.6
14.5
Density
0.75 [g/cc]
0.81 [g/cc]
Lower Heating Value (mass basis)
44 [MJ/kg]
43 [MJ/kg]
Lower Heating Value (volume basis)
3.30 [MJ/L]
3.48 [MJ/L] - (5.5% higher)
Lower Heating Value (CO2 basis)
13.9 [MJ/kg-CO2]
13.6 [MJ/kgCO2] - (2.2% lower)
---
Electrical Vehicle vs ICE Vehicle
Electrical vehicles are the new technology emerging (with potential and willingness) to replace fossil fuel based internal combustion engine (ICE) driven vehicles. A short and preliminary comparison of the two technology can be summarized as follows.
The application of CFD in EV will still be at large scale except the fact that the combustion phenomena will not be there. Some of the applications are:
Cooling of electric drive motors: the hot gas can be used in a gas-to-gas heat exchanger for heating of passenger cabin.
Thermal comfort in cabin - same as conventional internal combustion engine based vehicle
Battery Thermal Management System: needs to be heated under cold condition and cooled under hot conditions.
Cooling of brakes - same as conventional vehicle, regenerating braking can be used as electrical circuits are present everywhere. Brake force still hydraulic but actuation can be electrical.
EV: Electric Vehicle, EDV: Electric-Driven Vehicle, HEV: Hybrid Electric Vehicle - the hybrid vehicle battery continues to release and store large amounts of energy while the car accelerates or decelerates. The idea is to let the combustion engine run near maximum efficiency point always and the shortfall or excess of energy is provided by or stored in the battery.
LIB: Lithium-ion batteries, BESS: Battery Energy Storage System, BTMS: Battery Thermal Management Systems, ECM: Equivalent Circuit Modeling
Cell: a single functional battery (cathode and anode)
Battery Module: a standalone set of batteries or cells stacked and connected internally in series-parallel manner and acts as one unit. E.g. a battery module of 8 cells shall have only one connection to utlize all 8 cells simulataneously.
Battery Pack: It is battery modules stacked and connected externally with one another. At any point of operations, either all the battery modules can get activated or only pre-defined few.
PEEM: Power Electronics and Electric Motor, EES: Energy Storate System (the battery pack), CFL: Combined Flow Loop
FEHX: Front End Heat Exchangers (Radiator, condenser, oil cooler)
OCV: Open Circuit Voltage, SOC: State of Charge, DOD: Depth of discharge: percentage of the battery that has been discharged relative to the overall capacity of the battery

Life of Battery: Storage life - number of calendar days after which SOC is reduced to 50%, Cycle Life - number of charging-discharging cycle after which is becomes non-functional. A battery may have 15,000 cycles at a DoD of 50% but only 3,000 cycles at 95% DoD.
The C-rate is a measure of the rate at which a battery is being discharged or charged relative to it is maximum capacity
Storage Capacity: Specific energy - [W.h/kg], Energy density -[W.h/L], Heat released in thermal runaway - [W.h/cell]
Thermal Runaway (TR): Thermal failure of individual cells could be initiated for different reasons such as internal short-circuit, over-heating and over-charging or discharging. These further causes increase in cell temperature and trigger chemical reactions. Subsequently highly exothermic reactions result in a rapid self-heating of the cell including the nearby cells. TR describes a situation when a cell spontaneously self-destructs due to temperature increase.
Batteries (cells) are typically available in cylindrical, pouch and prismatic (cuboid) shapes
---
Schematic and Arrangment of Cells in a Battery Pack: The arrangment of cells inside a battery pack can have different combination of series-parallel connection electrically. In terms of physical layout, they can be stacked in staggered or parallel arrangment.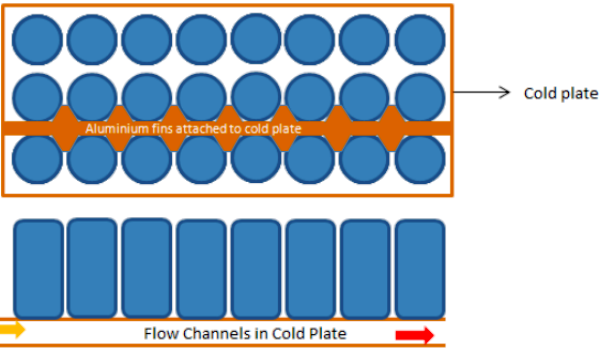 Reference: National Renewable Energy Laboratory - temperature distribution in a battery pack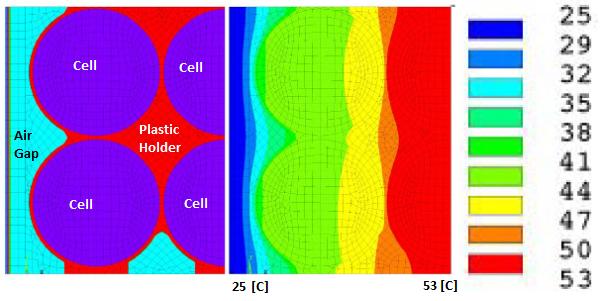 As per various literature published, the optimum temperature for LIB should be between 15 and 35 [°C] and the temperature variation within a cell should be ≤ 5 [K] in order to keep the cell in good condition and have the expected lifetime.
---
Battery Cell Performance Estimation
Equivalent Circuit Model (ECM):
The parameters for ECM is usually estimated using two experiments, the pulse test and the low current test. This model requires few parameters such as open circuit voltage, ohmic resistance and current pulse. Lithium Iron Phosphate (LFP), Lithium Nickel Manganese Cobalt Oxide (NMC) and Lithium Nickel Cobalt Aluminum Oxide (NCA) are the most commonly used cell chemistries.
In order to estimatethe parameters, two tests are performed: (a)the pulse test and (b)low current experiment. The purpose or low current test is to estimate the Open Circuit Voltage (OCV) accurately. The aim of the pulse test is to get OCV at different SOC. Data generated in both these tests can be used to generate parameters of ECM described below
ECM MODEL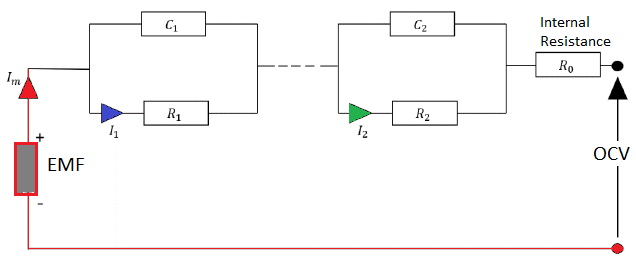 PULSE TEST
Electrochemical Model: The model is based on the electrochemical processes that occurs inside the cell/battery. The detailed process phenomena of inner cell is simulated using the chemical characteristics and design parameters. The electrochemical models use complex nonlinear differential equations to describe the battery internal dynamic characters with many unknown parameters and uses thermodynamics and electrochemical kinetics equations.
---
Battery Thermal Models
The cell heat generation rate depends on a number of factors such as C-rate, the temperature of the cell, SOC whether the cell is charging or discharging. Cells have higher heat generation at low temperature as well when the C-rate is high. However, the heat generate rate is lower at higher cell temperature due to lower electrical resistances at higher temperature.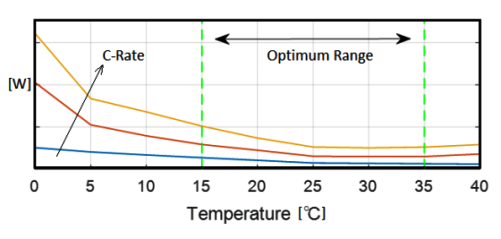 Lumped capacitance thermal model: The model splits the battery core and battery case as two sperate isothermal nodes, all components inside the core such as anode, cathode, active material... are assumed to be a single homogenous material with masss-weighted or volume-weighted averaged properties.
Inputs: heat generation rate [W], thermal resistance or conductivity [W/m-K] and specific heat capacity [J/kg-K] of the cell
Output: mean temperature inside cell and the casing
Method: one-dimensional thermal network
Tool/program: MATLAB/Simulink, MS-Excel, AMESIM...
Finite element analysis battery thermal model
: The model describes the battery heat transfer in three-dimensional. This model is more accurate and useful to study temperature gradients in the cell and surrounding. However, the model requires a large number of parameters and data which needs to be determined through theoretical / empirical calculations or experiments.
Thermal Management of EV
Thermal management entails regulating heat flows into the cabin of the vehicle and out to the ambient from hot parts. The goal is to ensure components operate in their respective temperature limits while providing comfortable temperatures for passengers in the vehicle interior.
Thermal management systems in electric vehicles are generally more complex than in conventional vehicles featuring combustion engines.
Thermal protection for hundreds of components real-time is a complex electro-mechanical and mechtronics process.
The battery needs to be cooled or heated depending on the ambient and operating conditions.
Waste heat is not available from a combustion engine to heat the vehicle interior. This necesitates the use of energy-efficient measures heat pump instead of direct electric heaters. Normally a PTC (Positive Temperature Coefficient) heater provides heating in cold weathers.
The refrigerant circuit and the cooling circuit needs be optimally synchronized to transfer heat inside the vehicle. Interconnection of these two different fluid circuits changes depending on the (cabin/battery pack) heating or cooling requirements. The refrigeration loop has compressor, condenser, receiver-drier, expansion valves (one each for chiller and evaporator), chiller and evaporator. The chiller is used to cool the coolant in hot weather when the radiator alone is not sufficient.
Coupled use of 1D system simulation to 3D thermal solutions can help reduce chance of detection of thermal issues late in the design cycle.
---
Ventilation of an Electric Motor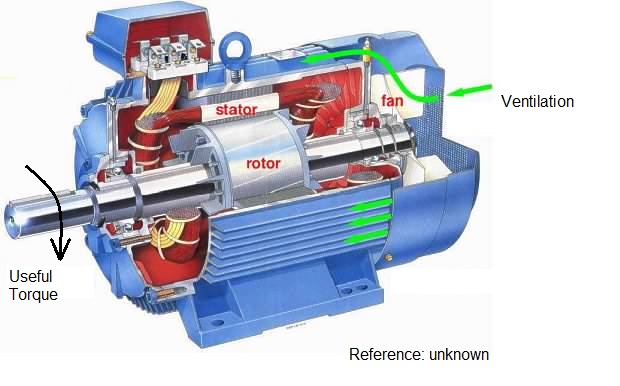 Recyclability of Battery Component - LAB (Lead Acid Batteries)
Recyclability of Battery Component - LIB (Li-Ion Batteries)
As of now, no known and scalable (technically as well as commercially) method exists. The cells used in mobile phones are still being dumped as solid waste. There is no constituency for holistic, cradle-to-grave view of energy production with least total environmental impact! Total "cradle to grave" CO2 emissions ~ same for all propulsion methods and energy sources! - Reference: www.hydrogen.energy.gov/pdfs/14006_cradle_to_grave_analysis.pdf
---
Automotive Parts and Sub-assemblies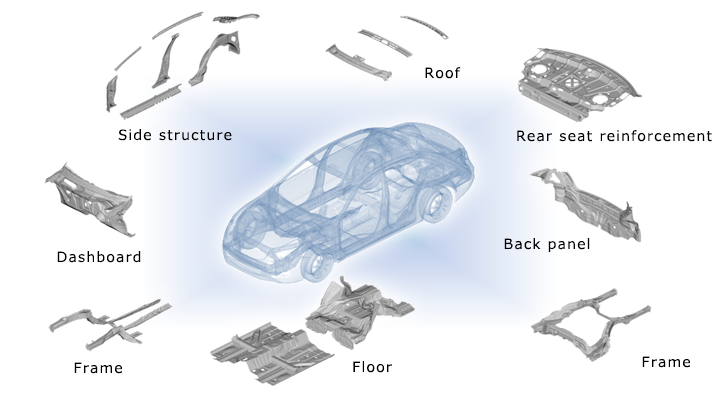 ---
Application of Numerical Simulations
Automotive
There are wide range of applications of numerical methods such as CFD in automotive domain ranging from system level External and Underhood aerodynamics to brake cooling to the simulation of combustion phenomena inside engine cylinders. At the same time, the implementation of 3D simulation with 1D tools such as AVL-Boost, Ricardo-Wave and GT-Power suites significantly enhances the capabilities of each other. […]
CFD can be used to iterate the designs without actual prototyping. For example, the flow uniformity though the various runners of an intake manifold can be ensured at the early stage of development.